KATHMANDU: JULY 20 – Great Wall Motors (GWM) expands its presence in Nepal with three new models. In the automobile industry, GWM has become synonymous with high standards of quality, performance, luxury, and comfort. Nepal is poised to seize a piece of this incredible and innovative approach in the automobile sector.
V. G. Impex Pvt. Ltd., a Vishal Group subsidiary, is the authorised distributor for GWM in Nepal, with extensive experience in automotive dealerships. V. G. Impex, in collaboration with GWM, is bringing two incredible SUV offerings to Nepal, as well as one top-of-the-line Pickup variant. All three offerings are unrivalled in terms of comfort, style, and performance. Great Wall Motors' showroom is in Thapathali, Kathmandu, with plans to expand the network to key towns throughout Nepal to provide customers with a premium experience across the country. After the situation has calmed down, Great Wall Motors plans to introduce and promote the brand and product in a new way. Further plans for the opening of the cutting-edge Service Center will be completed in the near future. V. G. Impex provides 4S service (sales, service, spares, and survey (customer care) in accordance with Great Wall Motors standards.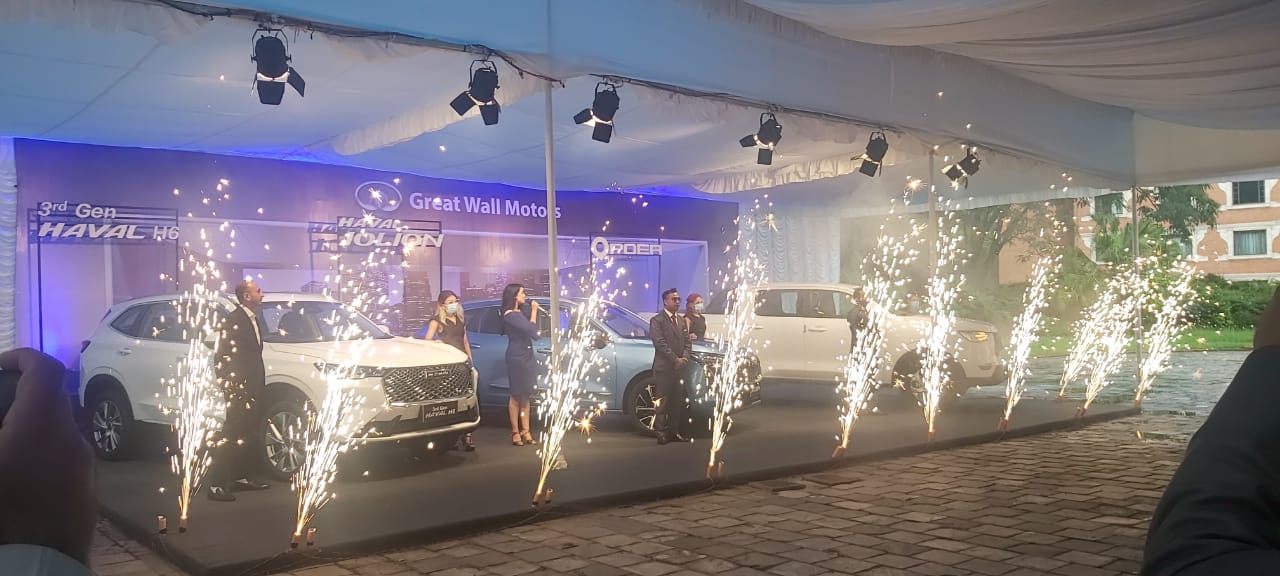 3 rd Gen. HAVAL H6
This model stands out in terms of SUV comfort, luxury, class, and panache. Its looks are complemented by the performance and output it provides, which marry very well. This SUV is powered by a 2.0-litre petrol engine with turbo 4WD. It also has a power output of 150kW and a torque displacement of 320N.m. This, combined with higher ground clearance, provides a smooth driving experience even in Nepal's extremely rough terrain. Aside from technical excellence in performance, it also looks great with a panoramic sunroof and automatic wipers, multifunctional leather steering, an 8-way adjustable driver seating arrangement, and wireless charging. 8 safety airbags provide maximum protection, along with features such as ABS+EBD, 360° camera view, HHC (Hill Hold Control), and anti-collision mechanisms such as SCM (Second Collision Mechanism) + FCM (Forward Collision Mechanism), to name a few. Touch screens, smart and intelligent infotainment systems, and innovative LED lighting enhance your driving experience. Intelligent mobility features such as L2 level automatic driving at full speed, Traffic Signal Recognition (TSR), and lane-keeping will provide the rider with a greater sense of security and control. The comfortable routes for both drivers and passengers are provided by the leather seats, cool colours such as Hamilton White, Ayers Gray and Atlantis Blue and the nice legroom relaxed and good ergonomics in black interior. The robustness and strength of the rock-solid fort on wheels are provided by the 71.61 per cent high steel body frame. This 3rd Gen HAVAL H6 SUV is intended in Nepal to redefine the automotive market and is available with the NRS starting price.

HAVAL JOLION
In 3 versions this model comes with a 1.5-litre turbo gasoline engine. With a torque of 220N.m, it has a maximum output of 110kW. This together with a higher ground clearance offers a smooth driving experience, even in very harsh areas of a country such as Nepal. In order to ensure stability and security 4-drive and electric parking braking system is supported by a 73% high-strength steel body. It also offers a panoramic sunroof and automatic wiper look in outdoor settings and multifunctional leather steer with paddle shifter, 6-way adjusting driver seating arrangement, power heated front seats and napa leather seating covers. Eight safety airbags offer the highest possible security features including ABs, HHC and HDC (Hill Hold Control, Hill Decent Control), Drivers Drowsiness Detection, and Event Data Recorder to timely intervention for improved control and collision control mechanisms, such as SCM (Second Collision Mechanism). Media features such as innovative front LED lighting and rear fog lights to enhance and increase the driving experience. Interiors have additional characteristics such as front and rear USB ports, two-screen connections and android auto play synchronizations. The Haval Jolion comes in five amazing blue, blacks, greys, bottles of Hamilton White and mars red, and is available in the Nepalese market at the starting price of NRS. 55,49,1999.

POER Pick-Up
In two variations, Elite and Pilot will be available for this pick-up model and it comes with a 2.0-litre diesel motor. With a torque of 400N.m, the maximum power output is 120kW. This combined with higher ground clearance provides even in very rough terrain for a country like Nepal with smooth driving experience. It has a high tensile steel body that is suitable for geographical and road conditions in Nepal. It also has a nice new pick-up offer on the sunroof. Poer offers a keypad-free push-start function, a leather steering wheel for comfort, hydraulic drive for better control and control of the bottom of your wheel. Excellent passenger leather seats and a six-way adjustable driver seat for better twists and turns. 6 security aviation bags offer the utmost safety with additional features, such as ABS (Hill Hold Control and Decent Hill Control), a Vehicle Stability Control and a Speed Warning System to measure the distance between items during manoeuvring. A 9″ touch screen and car play and support for androids are excellent for the media. The rear and front fog lights improve visibility and make the experience amazingly surreal in poor conditions and automatic lights. 83.9% of a trapezoidal steel cage body provides strength to increase the capacity of the load. The Poer Pick-up is available for a start-up price of NRS 64,99,000.00 on the Nepalese market.
—
Read full story at Makalu Khabar
Don't Miss